The past few weeks have been fun and eventful. First, I took a trip to NYC for Christy's graduation from her master's program and to visit my family. Being back in the US was wonderful. It's funny how somewhere that had never been home to me (NYC) suddenly felt as though it was. I flew in on a Wednesday night, and the following morning my parents flew up to Connecticut where they were picked up by Steve's parents and taken to their cabin in New Hampshire. Christy and I spent a couple days in NYC, and then we made our way up to New Hampshire to meet them for the weekend. The Ullmans were wonderful hosts and it was peaceful and relaxing weekend. Their cabin is lovely, we played lots of games, explored the town, and went kayaking.
Monday morning my parents and Christy and I drove back to Connecticut and took the train into NYC. We had a great week there complete with two Broadway plays, a trip to the crown of the Statue of Liberty, walking over the Brooklyn Bridge, the new 9/11 museum, the Tenement Museum, Central Park, the Chelsea Market, lots of Black and White cookies, lots of bagels, and plenty of time spent along the Brooklyn waterfront a block from Christy and Steve's apartment. And food. Lots and lots of good food.
The two Broadway plays we saw were Once and Pippin. We bought tickets through the same-day half-price ticket booths in Brooklyn. We ended up with 4th and 11th row center seats for the two shows. Once was a wonderfully entertaining show with outstanding music and a lively cast. Pippin surprised us and was fantastic. We bought the tickets on a whim based on a recommendation from the girl at the ticket booth. It's about a prince that leaves his royal life in search of something extraordinary. The show is full of cirque-du-soleil style acts and has some hilarious characters. A definite win.
One of the highlights of the trip was going to the crown of the Statute of Liberty. They only have 240 tickets a day available and they sell out months in advance, so it was quite a treat. You climb up 20 stories of the most spiraled staircase I've ever been on. It's definitely not for the claustrophobic or those afraid of heights. My heart was beating pretty quickly the whole climb, and not just from climbing the stairs. The whole way up you see the inside structure of the statute, and then once at the top you get a very cool look out over the harbor.
The 9/11 museum was very interesting and emotional. You enter near the memorial and wind down a ramp into the foundation of the original towers. There are artifacts and stories of the building and the attack, a large memorial and tribute to the victims, and then a huge exhibit at the bottom chronicling the attack beginning that morning through the aftermath and the rebuilding. A lot of the pictures, videos, and stories we've all seen, but to have it all in one place mixed in with a lot of things I hadn't seen before is almost overwhelmingly emotional and a grave reminder of all the people lost that day and since.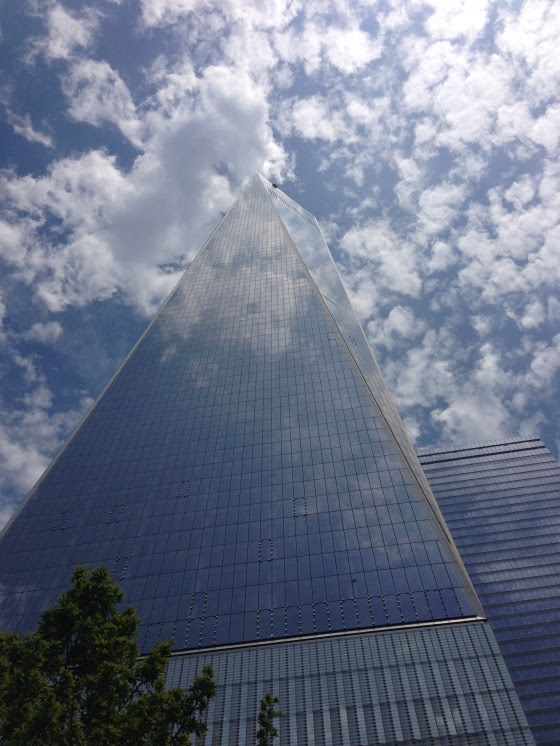 Another big highlight of the trip was the food. Food is actually one of the highlights of any trip I take, and we sure spoiled ourselves on this one. We had a special restaurant lined up almost every night – Traif, Prune, Pok Pok, Print, and our favorite – Noodle Pudding. Christy and Steve are lucky enough to not only have a fab apartment, but to have a fab landlord. He's the owner of Noodle Pudding, which is conveniently located around the corner from them. We went there the first night after Christy's graduation and were so impressed that we went there again a couple nights later after declaring it the "best of" for our meals that week. The second night we went back and did the "Trust Me" menu where he just brings you what he thinks you should have. The amount of food was mind blowing (true Italian style!) but the food was so fresh and so wonderfully prepared. After the third heaping course we were about full, and then as the main dish came out (a giant fish!) we told him we couldn't eat anything after that. His response, "oh, so I should stop?" was perfect. I would eat there every day if I could.
While I was off eating my way through New York, Sean was back here in Sicily doing real work. On top of his 12 hour night shifts, he managed to buy our car (yay!) and get us moved over to our new apartment. So when I came back, I had a new home. The next morning the movers showed up with all our things and used a lift to get all our possessions up to our third floor apartment. It definitely did not look stable and was a little scary, but everything made it. We are now mostly settled in. We just have a few more pieces of furniture to buy (we discovered that our new car doesn't fit nearly as much Ikea furniture as our old car) and things will be good.
Our new place is wonderful. It's so much better than I imagined we'd be able to find over here, and I just can't get over what an amazing view we have. Being settled in somewhere makes it feel like home finally. So far, almost every night there have been fireworks that we can see from our balcony. In fact, as I was writing this post at 6pm in broad daylight I heard a bunch of fireworks too. And I don't mean the ones you buy from the firework stands for the 4th of July. I mean the big fireworks that light up the sky. It's pretty cool.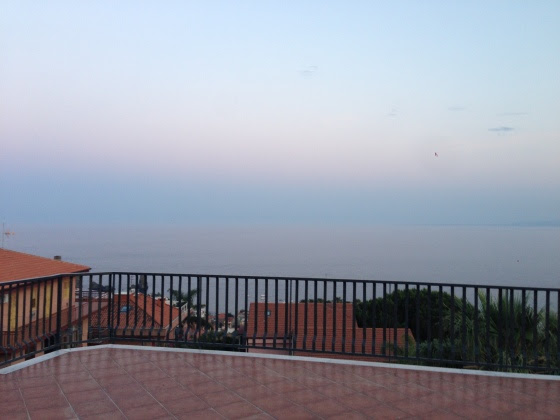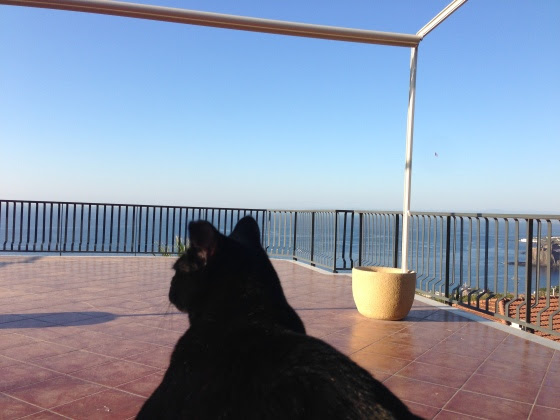 From our house we can walk into the little fishing town of Acitrezza full of shops, cafes, and seafood restaurants. Eventually I'll start to do better with the seafood here. I'm a pretty adventurous eater but the variety, and rawness of the seafood here is still a bit tough to stomach. Elizabeth, I need someone to eat my shrimp heads! We do pretty good though, our first night out here we had raw shrimp, raw sardines, octopus, and I'm not even sure what else.
So, that's what we've been up to. More to come.